Did You Know The Holidays Increase Auto Accidents?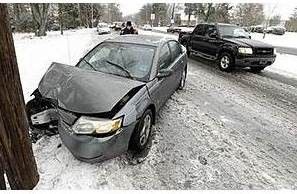 Holiday seasons and weekends are a time when many families are packing their bags and preparing to visit out-of-town family or friends. Statistics show that the 35 days between Thanksgiving and New Year's is the busiest long-distance travel period of the year. Many drivers travel 50 miles or more away from their hometown, more than any other time of the year. Unfortunately, an increase in travel also means an increase in auto accidents and fatalities. According to the National Highway Traffic Administration (NHTSA), this is exactly what happens. With many people on the road, there are many dangers that are associated with holiday travel. Factor in higher alcohol consumption and it gets even more dangerous.
The Most Dangerous Holidays
Christmas Eve and New Year's Day are two of the most dangerous holidays for drunk driving and auto accident fatalities.
Christmas Eve: according to a Forbes report, Christmas Eve is the fifth most dangerous holiday with an average of 414 deaths per year since 1982
New Year's Day: nearly half of all traffic fatalities this day involve alcohol, the most of any U.S. holiday, according to the NHTSA
What Constitutes Drunk Driving?
In Arizona, drunk driving is defined as getting behind the wheel with a blood-alcohol content (BAC) of 0.08 percent or more. Unfortunately, at New Year's far too many parties last until after midnight meaning that partygoers often drink for hours before driving home. On Christmas Eve many people celebrate too much or drink to pass the hours with stressful family members. It's actually much safer to drive on Christmas Day when most festivities take place in the morning and don't involve drinking.
Planning For Safety Around The Holidays
It is important to be aware of the increased risks around the holidays and to prepare accordingly. Always make a plan if you are attending holiday festivities. Drivers can protect themselves and their passengers by following these holiday travel rules:
Make alternate arrangements such as a designated driver or taxi
Have a place to sleep it off
Stay fresh and alert when driving
If you or a loved one is injured in an auto accident, the attorneys at Kamper & Estrada, PLLC are always available to help you.