It's easy to underestimate the severity of a slip and fall. They are, after all, hallmarks of slapstick comedy. But the injuries incurred in everyday slips can be surprisingly serious and long-lasting — even paralyzing.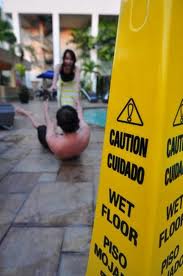 People often slip and fall in public areas where a landlord or owner has failed to maintain a safe condition for customers or guests. In those cases, Arizona personal injury law provides for financial compensation for the damages that arise as a result.
If you've been hurt in a slip and fall in Arizona, the Phoenix personal injury attorneys at Kamper, Estrada & Simmons, LLP can help.
Where Do Most Slip and Fall Accidents Happen?
While it's possible to trip or tumble almost anywhere, some places are particularly prone to slip and fall accidents:
Grocery stores
Department stores (including "big box" retailers)
Construction sites
Restaurants
Bars and clubs
Public swimming pools
Spas
Stairs with unstable railing
Parking garages
Other people's driveways, yards, or homes
The victim's own place of employment
Talk to the Phoenix Personal Injury Attorneys at Kamper & Estrada, PLLC
Have you been injured in a slip and fall accident in Arizona? If so, turn to the experienced Phoenix personal injury attorneys at Kamper & Estrada, PLLC.
Our team has years of experience with these kinds of cases, and we are committed to maximizing our clients' compensation. Contact our office for a free consultation today.