Among this year's Oscar nominees is Interstellar, a blockbuster sci-fi film that imagines a second severe Dust Bowl for Earth's not-so-distant future.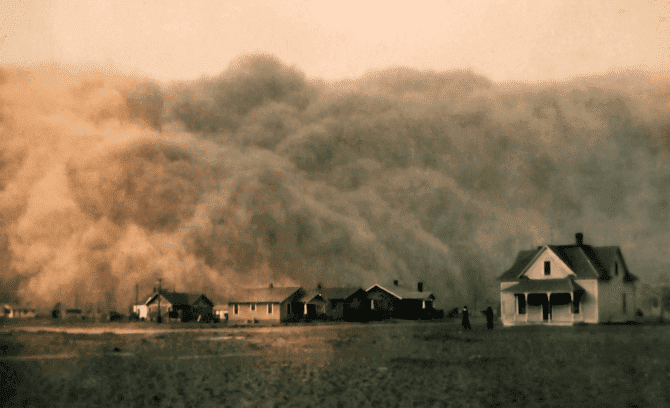 The first Dust Bowl, of course, was a climatic catastrophe that rocked the prairies of the United States and Canada during the 1930s, sometimes referred to as the "Dirty Thirties." A drastic drought, coupled with improper farming techniques, conjured a long-lasting succession of dust storms that wreaked havoc on our agriculture and economy.
For the people living on those prairies, the Dust Bowl also posed real health threats. Now we know that those threats included "electrocution by hug."
Dust storms are made up of many, tiny particles of dust. In this case, those particle storms were so thick and massive that they seemed to coat the sky. The particles would build up static charges strong enough to knock people to the ground or even cause electrocution.
That explains why radio stations lost their signals and cars lost their electrical charges when Dust Bowl storms came through. Even worse, people themselves would build up a charge. A simple hug was sometimes enough to shock both participants in the embrace.
Electricity is scientifically fascinating, but it's also medically devastating. As Phoenix electrocution attorneys, we work with victims of dangerous electrical charges everyday.
While Arizona is fortunately safe from an Interstellar-sized Dust Bowl for the time being, the new discoveries from the Dirty Thirties do help us to remember that even everyday encounters with a force as powerful as electricity demand our utmost caution.