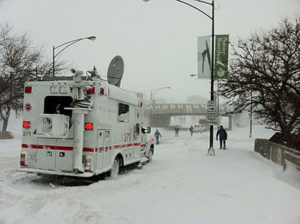 Like a lot of other states, Arizona requires drivers to move over when they come across an emergency vehicle on the side of the road. Maintaining at least a lane's distance between your car and the emergency responder keeps everyone safe and ensures that one emergency doesn't turn into two.
If it isn't safe or feasible for the drivers to move over, the law requires them to slow down and use caution, passing by as safely as possible.
Unfortunately, some drivers don't listen… a lot of them, in fact, according to a new report by AAA.
Believe it or not, emergency vehicles are involved in auto accidents with some regularity. In fact, the National Highway Traffic Safety Administration finds that the auto accident rate among emergency responders is double the national average.
When responding to speeders and roadside catastrophes, police, tow trucks, and rescue workers are called to quick action. They often have to pull onto the shoulder of the road — or, when there's not much shoulder to speak of, park in the lane itself.
High-speed oncoming traffic poses a major threat not only to the officers but also to the people they're assisting or addressing. Drivers may not realize how quickly they're approaching the stopped cars.
That's why the "Move Over" law is so important. Regrettably, AAA Arizona says their latest survey finds widespread reluctance to obey.
Of course, the "Move Over" law isn't the only driver safety rule that too many Arizonans ignore. While drunk driving is on the decline in The Grand Canyon State, texting while driving continues to grow.
As Phoenix personal injury attorneys, we are concerned about the safety of both emergency responders and civilians who are detained or stranded on the side of an interstate or highway. Ignoring important driver safety rules like the "Move Over" law constitutes negligence, for which at-fault drivers can be held financially and even criminally liable. Texting and driving, while not yet specifically illegal in Arizona, can also give rise to civil liability for negligence.
If you or a loved one has been injured in an Arizona auto accident, call the Phoenix personal injury attorneys for a free consultation right away.