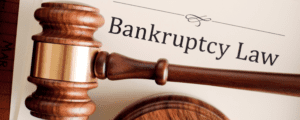 Personal Bankruptcy: Are You Free at Last? Not So Fast.
Personal bankruptcy can be a viable solution for dealing with your consumer debts, such as credit cards or personal loans. However, personal bankruptcy does not eliminate all kinds of debt. You will still owe debts to the federal government, like back taxes and student loans.
Additionally, you will also still be on the hook for alimony, child support, and other post-divorce settlements. If you've been convicted of a crime or a misdemeanor, you will still owe all fines and restitution payments associated with that.
Taxes
If you owe any money to the federal government or a state or municipal government, declaring bankruptcy will not make these debts disappear. Government debts, as stated earlier, are things like taxes, extra tax penalties, and student loans.
Alimony and Child Support Payments 
When filing for bankruptcy, you still owe alimony and child support. If you decide to file for Chapter 13 bankruptcy in lieu of Chapter 7 bankruptcy, typically your past-due child support and alimony payments can be integrated into your repayment plan. This will stop family court efforts to collect from you, which could include taking money directly out of your paycheck.
Can a Judgment Be Discharged in Bankruptcy?
Prior to the time you file for bankruptcy protection, a creditor could decide to take you to court and get a judgment. This will allow the creditor to take additional steps, such as garnishing your wages or freezing your bank account, to get the money you owe. Bankruptcy will make judgments like these disappear.
Almost always, you will still be liable for paying fines related to violations of the law, including criminal fines and traffic tickets. This includes debts for personal injuries caused by driving while intoxicated.
You Can Choose to Reaffirm Certain Debts
Some debtors decide to "reaffirm" some of their loans. Instead of erasing a debt, they decide to make a new agreement with the creditor. This can make sense if you don't want to lose collateral, like your car.
Bankruptcy is a very technical and misunderstood concept. Bankruptcy can be beneficial and possibly the best solution to getting out of debt in certain scenarios, but not always in others. Speaking with a bankruptcy lawyer, like the experienced bankruptcy lawyers can be an extremely beneficial experience. The lawyers here have years of experience working with bankruptcy here in the Phoenix area. Give us a call today and schedule a free consultation!