Each year in the United States, a large number of people are seriously injured or killed in motor vehicle accidents. The National Safety Council reports that an estimated 38,300 people were killed in traffic accidents in 2015 and another 4.4 million were seriously injured. When a person is involved in an accident, he or she may not be thinking ahead to the importance of gathering information that might be helpful in his or her subsequent personal injury claim. Injured people who try to negotiate fair settlements with insurance companies may be better off if they have witness statements that support their claims. There are three main categories of witnesses who may be important in proving a personal injury claim either during negotiations or at trial if a settlement cannot be reached.
People Who Witnessed the Accident
People who saw the accident occur as well as those who saw the negligent action that caused the accident are important witnesses for personal injury claims. Getting statements from these witnesses as soon as possible is important because people may forget what they witnessed as time passes. It is a good idea for people who have been involved in accidents to get the names and contact information of as many witnesses as possible. They can then give this information to their personal injury attorneys. The attorneys may have their investigators interview the witnesses in order to get statements about the accident. Having these statements available may help to convince an insurance company of the liability of its insured.
People Who Have Observed How the Injuries Have Affected the Injured Person
In some cases, insurance companies will dispute the seriousness and extent of a person's injuries. When an insurance company does this, having witnesses who are available to testify about the injuries in detail may be helpful. These witnesses may include friends, family members, employers, coworkers, and others who have had the opportunity to observe the person both before and after his or her accident.
Expert Witnesses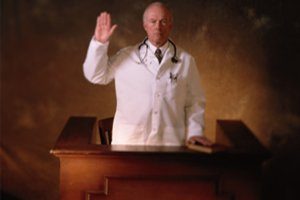 In many cases, expert witnesses are needed in order to build strong personal injury cases. These witnesses may help during the discovery phase by providing enough information to convince an insurance company that settling the case is in the company's best interests. If a case does go to trial, having expert witnesses is usually very helpful. They are likely able to explain complex matters in a straightforward and simple way so that jurors can understand exactly what happened and who was at fault. There are some issues that can't be brought up in front of juries without having an expert witness available to testify about them. There are many different types of expert witnesses, and the type of expert a person might need will depend on the facts of his or her case. Commonly, DC personal injury lawyers use accident reconstruction experts and medical experts. The accident reconstruction expert may establish certain facts about the accident itself and what happened, and medical experts may discuss the injuries and the need for future treatment.
Getting statements from the appropriate witnesses in an accident may have a huge impact on a case's outcome. In some cases, witness statements and expert reports may help to reach a settlement in an amount that will fairly compensate a person for all of his or her losses without needing to go to trial. People who have been injured in accidents that were caused by the negligence of others may want to schedule consultations with personal injury attorneys to learn more about their rights.
Thanks to our friends and co-contributors at Cohen & Cohen, P.C. for their added insight into personal injury practice.